When choosing a blind, its style is not the only criterion we need to consider. Equally crucial to the aesthetic and feel is where we will install it. Some spaces, such as bathrooms or sink areas in the kitchen, can often get humid and wet and be constantly splashed with water or soap. Our durable and waterproof PVC Roller Blinds, Faux Wood PVC Venetian Blinds, waterproof Shutters and PVC Vertical Blinds are perfect for those spaces, and here's why!
PVC Roller Blinds
Ocean PVC Roller Blinds are just what you need for a steamy bathroom. Made of PVC, a fabric that's waterproof by nature, they're ideal for a window next to a bathtub, shower or sink. The high-quality PVC also acts as a blackout blind, giving you total privacy and protection. Our PVC blinds come in many colours and styles, so you can be sure to find a perfect match for your home.
PVC blinds are genius in areas prone to dirt, whether from a child's jammy hand or a soap. A non-absorbent fabric is easy to wipe clean – just with a cloth. Keeping them clean regularly, PVC Blinds will look new for a long time.
Faux Wood PVC Venetian Blinds
Faux Wood Blinds are another perfect choice for heavy-duty spaces. PVC Venetian Blinds won't warp under heat, water or moisture. The high-quality PVC makes them 100% waterproof and effortlessly wipe clean, so they're perfect for busy kitchens and bathrooms.
Our made-to-measure Wood Impressions collection features Faux Wood Blinds and brings you all the styles of real wood. With painted finishes, textured grains and shades from classic to contemporary those PVC Faux Wood blinds will look great anywhere. Plus, they're resistant enough to deal with even the most challenging environments.
Waterproof Shutters
Our Shutter Blinds are absolutely 100% waterproof. In fact, they're virtually indestructible! No warping or peeling here. They've also got perfectly formed 64mm slats for both privacy and light.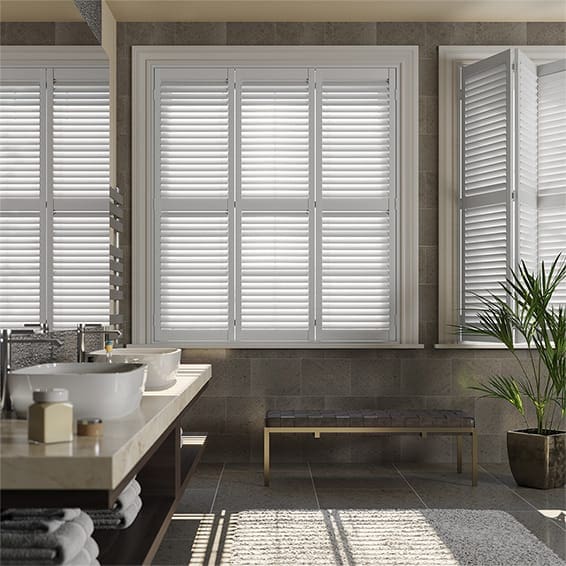 Made from an advanced polymer, you can be sure of no cracks, warps or peels even in humid conditions. Timelessly stylish, our waterproof Shutter Blinds combine practicality and style.
PVC Vertical Blinds
Our collection of made-to-measure PVC Vertical Blinds is perfect for large windows in bathrooms and kitchens. PVC Vertical Blinds, made from waterproof PVC in contemporary colours, are practical and stylish, matching many schemes and interiors.
With durability and strength combined, our PVC Vertical Blinds are easy to operate with a simple cord. Just tilt the slats of your vertical blind from side to side with the easy chain and cord operation to give your room maximum light. Constructed from high-quality PVC, they are virtually indestructible and easy to clean.
Transform even the most challenging environments into havens of brightness and style with these simple but stunning waterproof blinds.